Our dispatch
Our packages are send within 2 working days after the payment is received. We like satisfied customers so every piece is carefully checked before shipment to insure that the product leaves our warehouse in perfect condition. If you still have a problem that needs to be resolved, please contact us immediately so that we can help to find a solution. Goods are sent by airmail via Thailand Post. Depending on price and weight we may insure to protect the packages against loss.
The costs for packaging, packing materials and fees for the Post Office are 5€.

We ship to the following countries: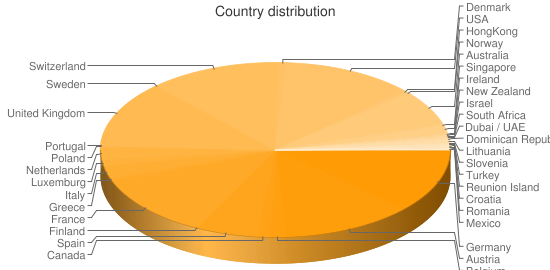 Argentina (AR) | Australia (AU) | Austria (AT) | Belgium (BE) | Bolivia (BO) | Brasil (BR)
Bulgaria (BG) | Canada (CA) | China (CN) | Colombia (CO) | Croatia (HR) | Czech Republic (CZ)
Denmark (DK) | Dominican Republic (DO) | Dubai / UAE (AE) | Ecuador (EC) | Estonia (EE) | Finland (FI) | France (FR)
Germany (DE) | Greece (GR) | HongKong (HK) | Hungary (HU) | Iceland (IS) | India (IN) | Indonesia (ID)
Ireland (IE) | Israel (IL) | Italy (IT) | Ivory Coast (CI) | Japan (JP) | Latvia (LV) | Liechtenstein (LI)
Lithuania (LT) | Luxembourg (LU) | Malaysia (MY) | Mexico (MX) | Netherlands (NL) | New Zealand (NZ) | Nigeria (NG)
Norway (NO) | Poland (PL) | Portugal (PT) | Reunion Island (RE) | Romania (RO) | Singapore (SG) | Slovakia (SK)
Slovenia (SI) | South Africa (ZA) | South Korea (KR) | Spain (ES) | Sweden (SE) | Switzerland (CH) | Taiwan (TW)
Thailand (TH) | Togo (TG) | Turkey (TR) | Ukraine (UA) | United Kingdom (GB) | United States (US)
but we can add your country on request.
Delivery
Our warehouse is located near the airport in Bangkok. You will normally receive your shipment within 5-12 business days although in some cases it may take a little longer
Custom duties:
Custom duties may be incurred. These costs are variable but usually small. They must be paid by the customer.