Short bloomers for men and women red cotton
Size chart
Women's clothing size
| Size | XS | S | M | L |
| --- | --- | --- | --- | --- |
| Euro | 32/34 | 36 | 38 | 40 |
| USA | 0/2 | 4 | 6 | 8 |
| Bust(in) | 31-32 | 33 | 34 | 36 |
| Bust(cm) | 80.5-82.5 | 84.5 | 87 | 92 |
| Waist(in) | 24-25 | 26 | 27 | 29 |
| Waist(cm) | 62.5-64.5 | 66.5 | 69 | 74 |
| Hips(in) | 34-35 | 36 | 37 | 39 |
| Hips(cm) | 87.5-89.5 | 91.5 | 94 | 99 |
How To Measure Your Bust
With your arms relaxed at your sides, measure around the fullest part of your chest.
How To Measure Your Waist
Measure around the narrowest part of your natural waist, generally around the belly button. To ensure a comfortable fit, keep one finger between the measuring tape and your body.

Length A: 85 cm, width B: 30 cm - 50 cm , width C: 15 cm
Short bloomers for men and women red cotton
The history of the bloomers goes back to the 17th century and can
as an answer to the less and less popular harem pants.
Our bloomers are the modern answer to the old design.
They are particularly flexible due to elasticated waistbands on the upper waistband and usually also have an elastic band on the calf. The cut is very similar to that of the low cut harem pants and can be considered as a short version of our harem pants. Often you can find long counterparts of the bloomers in our category harem pants.
The bloomers are the perfect trousers for the summer or warmer days.
The slightly oriental look makes them an exotic lot of trousers for festivals.
Also on medieval markets, medieval cosplays and similar events you will find a cheap alternative that can complement your robe. One of the advantages is the extremely comfortable fit, so that the bloomers could also comfortably accompany pregnancy during the hot summer days.
Colours in the photos may vary slightly.
Harem pants Shalwar cut
unisex
100 % cotton
Variable elasticated waist and legs
Meditation
Massage
Pilates
Goa pants
Yoga
Wellness
As pyjamas / sleeping pants
dance pants
baggy pants /
Pilates
hippie pants
Capuera
Cotton:
Compared to synthetic fibres, cotton is very absorbent and can absorb up to eighty percent of its weight in water. Cotton fabrics are considered very skin-friendly and have an extremely low allergy potential.
Due to its high abrasion resistance and tear resistance, it can also withstand higher loads.
Cotton is absorbent and absorbs e.g. body moisture. However, it does not accumulate them, but releases them evenly into the environment without any noticeable evaporation cold.
The colours and representation of the pictures can deviate slightly from the original!
Customers who bought this product also bought:
harem pants high cut cotton mix
Bloomers ladies and gentlemen aubergine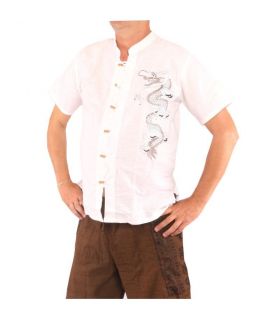 Chinese men's shirt short sleeve with button facing and dragon motif embroidered. In the sizes L, XL, XXL and XXXL. Model on the photo is about 1,80m
The thai wohlfühl 3/4 fisherman pants made of 100 % cotton - dark blue - with side pocket