Fair Trade Thai fisherman pants white made of extra heavy cotton (Paah Mueang) from the hilltribe people in the mountains of Chiang Mai
Total pants length: 120cm
Waist size: 140cm

Size chart
Women's clothing size
| Size | XS | S | M | L |
| --- | --- | --- | --- | --- |
| Euro | 32/34 | 36 | 38 | 40 |
| USA | 0/2 | 4 | 6 | 8 |
| Bust(in) | 31-32 | 33 | 34 | 36 |
| Bust(cm) | 80.5-82.5 | 84.5 | 87 | 92 |
| Waist(in) | 24-25 | 26 | 27 | 29 |
| Waist(cm) | 62.5-64.5 | 66.5 | 69 | 74 |
| Hips(in) | 34-35 | 36 | 37 | 39 |
| Hips(cm) | 87.5-89.5 | 91.5 | 94 | 99 |
How To Measure Your Bust
With your arms relaxed at your sides, measure around the fullest part of your chest.
How To Measure Your Waist
Measure around the narrowest part of your natural waist, generally around the belly button. To ensure a comfortable fit, keep one finger between the measuring tape and your body.

Length A: 120 cm, width B: 70 cm , width C: 33 cm
Fisherman pants...
are the traditional wrap pants from Thailand .
These pants are an extra long custom made for the very tall among you.

Originally they were made to give the fishermen the best possible freedom of movement and comfort during their work.
Nowadays, these pants find more and more followers due to their universal properties in various leisure and sports activities.
Relaxation at home
Sauna
Meditation
Massage
Pilates
Goa pants
Yoga
Wellness
As pajamas / sleep pants
Muay Thai Boxing
Dance pants
baggy pants /
Pilates
Summer clothing
They fit L - XL and are unisex.
Due to their special wrapping technique, the fisherman pants are extremely variable in width and length.
Cotton:
Compared to synthetic fibers, cotton is very absorbent and can absorb up to eighty percent of its weight in water. Cotton fabrics are considered very skin-friendly and have an extremely low allergy potential.
Due to its high abrasion resistance and tear strength, it can also withstand higher loads.
Cotton is absorbent and absorbs body moisture, for example. However, it does not accumulate this moisture, but releases it evenly into the environment without a perceptible evaporation cold.
The colors and representation of the images may differ slightly from the original!
Customers who bought this product also bought:
Fair Trade Thai fisherman pants orange made of extra heavy cotton (Paah Mueang) made by the hilltribe people in the mountains of Chiang Mai
3/5 Thai fisherman pants in heavy cotton - Fairtrade OTOP. "Paah Mueang" heavy cotton from northern Thailand made by the mountain people around Chiang Mai
Fair Trade Thai fishing trousers bordeaux red made of extra heavy cotton (Paah Mueang) from the Hilltribe people in the mountains of Chiang Mai.
Fair Trade Thai fisherman pants red made of extra heavy cotton (Paah Mueang) made by the hilltribe people in the mountains of Chiang Mai
The thai wohlfühl 3/4 fisherman pants made of 100 % cotton - undyed - with pocket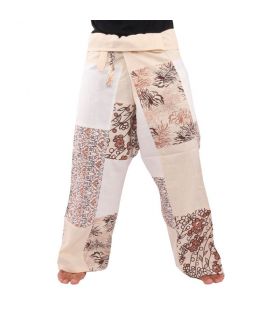 Thai fisherman pants patchwork size M - every pant is a little bit different, every pant is unique
Thai fisherman pants extra long - cotton cornflowers blue