Total pants length: 95cm
Waist size: 54cm - 86cm
Color: khaki

Size chart
Women's clothing size
| Size | XS | S | M | L |
| --- | --- | --- | --- | --- |
| Euro | 32/34 | 36 | 38 | 40 |
| USA | 0/2 | 4 | 6 | 8 |
| Bust(in) | 31-32 | 33 | 34 | 36 |
| Bust(cm) | 80.5-82.5 | 84.5 | 87 | 92 |
| Waist(in) | 24-25 | 26 | 27 | 29 |
| Waist(cm) | 62.5-64.5 | 66.5 | 69 | 74 |
| Hips(in) | 34-35 | 36 | 37 | 39 |
| Hips(cm) | 87.5-89.5 | 91.5 | 94 | 99 |
How To Measure Your Bust
With your arms relaxed at your sides, measure around the fullest part of your chest.
How To Measure Your Waist
Measure around the narrowest part of your natural waist, generally around the belly button. To ensure a comfortable fit, keep one finger between the measuring tape and your body.

Length A: 95 cm, width B: 27 cm - 43 cm , width C: 18 cm
These harem pants (Turkish bloomers) are laced at the waist with a ribbon to the appropriate width. In addition, it has a sophisticated fabric ornamental appliqué. These pants go one step further than the standard harem pants. Really great from the material and design.
The earthy, natural colours give an extra "natural feeling".
harem pants, harem pants, harem pants, bloomers
unisex
freesize
100 % cotton
Meditation
Massage
Pilates
Goa pants
Yoga
Wellness
As pyjamas / sleeping pants
dance pants
baggy pants /
Pilates
hippie pants
Cotton:
Compared to synthetic fibres, cotton is very absorbent and can absorb up to eighty percent of its weight in water. Cotton fabrics are considered very skin-friendly and have an extremely low allergy potential.
Due to its high abrasion resistance and tear resistance, it can also withstand higher loads.
Cotton is absorbent and absorbs e.g. body moisture. However, it does not accumulate them, but releases them evenly into the environment without any noticeable evaporation cold.
The colours and representation of the pictures can deviate slightly from the original!
Read more
Show less
Customers who bought this product also bought:
Crinkle look skirt - double layer with side pockets
harem pants made of fluffy cotton, female model, ca. 1,60m
Please choose your design :
13
16
19
21
3/5 Thai fisherman pants - cotton
ॐ Om harem pants with spiritual symbols Cotton
harem pants meditation pants Om Dharmachakra feet Buddhas cotton purple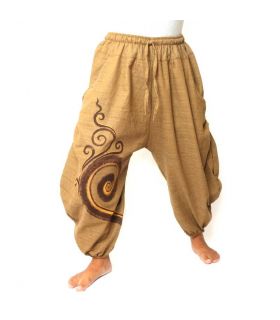 Boho harem pants for teenagers and small women or as 3/5 long capri pants for men. Model on the photo (w) ca.1,55m.
Harem pants with removable pocket. Model approx. 1.60m